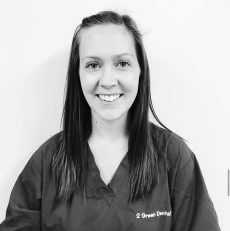 Rebecca Collins
Dip Dent Hygiene Royal College of Surgeons Of England 2012
Dental Hygienist
GDC No. 229163
This is Rebecca. The newest addition to our hygiene team. She worked as a nurse before graduating as a hygienist and just loves how much of a difference she can make to the health of people's mouths.
Out of work Rebecca is a busy mother to two young children Katie and Jack and is expecting number 3 in October 2020. She loves spending time with them taking them swimming and to clubs.
In the past, Rebecca has enjoyed travelling to different countries and enjoying different cuisines. Her favourite places have been China and Sri Lanka. She hopes to do more travelling when the children are older.
Rebecca is excited about attending the 'air flow' course to learn the new techniques to use with our new air flow teeth cleaning equipment we've invested in to help you achieve the brightest smile.
Here are our 5 fun facts about Rebecca:
Favourite food : family Sunday roast 🍗
Favourite past time : painting 🖼
Favourite part of the job : helping nervous patients
Unique fact : Rebecca knows makaton (child sign language) 🤟
Best word to describe Rebecca : conscientious ⭐️
Back to Team